Excerpts
Chapter One: A New Frontier: A New Horizon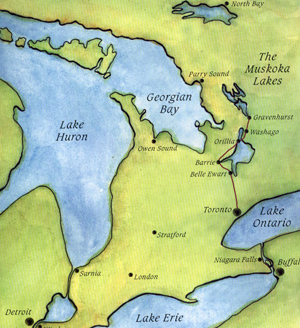 The Canadian history of the Ditchburn family commences with the arrival in Toronto, in 1869, of four brothers - William, John, Henry and Arthur - who have been attracted by the government offer of Free Grant Land for settlers in the newly opened Muskoka area. This forested wilderness, which begins about 100 miles north of the city of Toronto, marked the southern boundary of the geographic region known as the Canadian Shield and was still sparsely populated. Theirs was not a happy introduction to the frontier.
I have been to the Muskoka District where the Free Grant Lands are situated but it seems to be the opinion of everyone here that they are very dear as a gift as the land is very rocky and barren and the cost of clearing is very great. This life would only suit a hardy Canadian or one acquainted with the backwoods and invulnerable as to mosquito bites, and ready to do battle with the black bear. --William Ditchburn
Chapter Two: On the Muskoka Wharf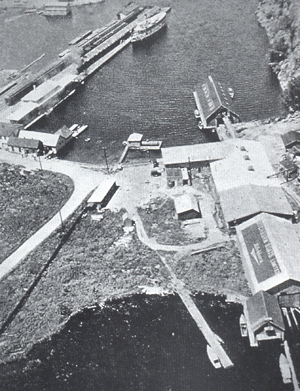 Gravenhurst's first boat-building plant was erected immediately adjacent to the Muskoka Wharf, right beside where where the new railway line delivered passengers to the waiting steamships that now plied the three lakes…. This was a most advantageous business location, since private cottages were springing up all over the lakes, and every cottage needed at least three boats. Canoes, sailing dinghies, and rowing skiffs were basic, but now motorboats were about to make their initial appearance.
Chapter Three: Harnessing the Gasoline Engine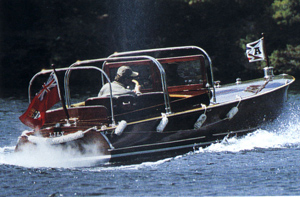 Probably no one person can be said to be "the" inventor of the gasoline-fired, internal combustion engine, but various significant developments can be traced. Dr. Nicholas Otto, a Prussian born in 1832, developed an experimental "explosive" engine in 1863, but it was not successful enough to be produced. He was later to work with a Cologne machinery designer named Eugen Langen, who was able to correct many problems, leading to a successful engine that was powered by illuminating gas. By 1877, Otto had earned patents that covered the basic principles of the 4-cycle engine—suck, squeeze, bang, and blow. By 1878, the Otto "gas-o-lene" engine was being sold in the United States and other countries.
In Muskoka, the early gasoline engines seemed more trouble than they were worth. Heavy, unreliable, difficult to service, and needing a dangerous fuel, there were many reasons to hold off on the purchase of a motorboat. Yet, there were tempting reasons to consider a gasoline- powered vessel. Rowing was tedious and backbreaking, sailing depended on a useful breeze (which often failed far from home), and steamboats were expensive to purchase and operate—beyond the range of most buyers.
Chapter Four: At the Helm of a Rainbow
… not included is the pioneer credited as "the father of motorized boating" in this country, the first to bring world attention to Canada, the man whose rainbow series of racers established Ditchburn boats as the world leaders.
Harry Benjamin Greening's contribution to power boating, his dozens of world-class achievements, his speed and endurance records, his engineering innovations, and his pioneering inspirations made him the first internationally famous Canadian in his sport. This outstanding racer richly deserves to be recognized in the Canadian sports hall of fame.
Harry Greening of Hamilton, Ontario, was Canada's first international success in motorboat racing.
Chapter Five: Transports of Delight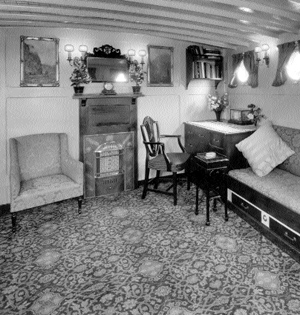 The growing reputation of the Ditchburn Boat Co., the stunning success of the two vessels for the Eaton family, the surprising achievements in racing, and the growing population of wealthy summer residents combined to overwhelm the work force, which had almost doubled in 1923 and now needed larger facilities if greater annual production was to be achieved. Orders for larger vessels ere appearing from satisfied previous owners, and now orders were coming from much farther afield—Montréal, New York, and western Canada.
The Toronto Star Weekly in January, 1928, carried a two-page tribute written by its famous feature writer, Gregory Clark, tracing the astounding success of the small-town company, now the most potent force in Canadian boat building, and profiling the driving force behind its success. … The Star Weekly story ended, "It is a story of success from the start, and so much of the success consists of something born in the blood and the breed, something instinctive and unteachable, like the ability to sing supremely—the gift of making planks and metal blossom into ships."
Chapter Six: One Step Ahead

The sales brochure described the new Viking as a "standardized Gentleman's Runabout, the fastest boat of its class ever built," and further claimed "unusual speed of 40 to 45 mph with a 150 horsepower engine, made possible by the scientific application of under body lines which greatly eliminate resistance caused by vacuum and wetted surface."
Chapter Seven: Boats with Stories
Undoudtedly every Ditchburn boat could tell a story in indeed they could talk, and since we can't tell them all it's perhaps unfair to tell any. But some are so unusual, so charming, so unbelievable, that they just have to be told.
GRACE ANNE II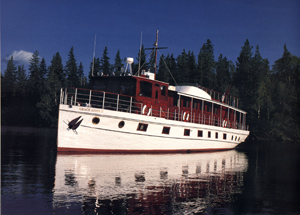 ESTELLE V

WHISPER, THE UNION BOAT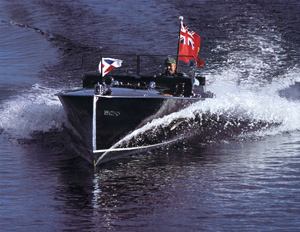 Chapter Eight: Against the Current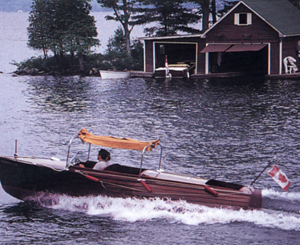 In repect, it is easy to mark the warning signs, but to herb Ditchburn, who had never known andything but growth and respect, it was difficult to forsee that the economic depression now underway was to last throughout the 1930's
The swift collapse of orders for large and small boats was an immediate concern for Ditchburn, and by July 1930 it became necessary to lay of workers. By July 1931, the situation was desperate, with two thirds of the workforce lair off. The only significant work for the winter of 1931 was at the Orillia factory- the 85-foot houseboat for the lake of the woods and a 117-foot patrol boat for the federal government, which was likely to be a money loser, taken on in desperation. In retrospect, it is easy to mark the warning signs, but ti Herb Ditchburn, who had never known anything but grown and success, it was difficult that the economic depression now underway was to last throughout the 1930's. In thirty years, the company had progressed from simple rowing boats to sophisticated 100-foot yachts, from small local industry to canada's most significant boat builder, from a handful of workman to a major employer in both Gravenhurst and Orllia.
Time ran out in March 1938, when the final incorporation was forced to declare bankruptcy. I was the sad end to a glorious chapter in Canadian boat building.
Chapter Nine: A Heroic Contribution to Winning the War
Like many production efforts clouded by wartime secrecy, this story has never been printed, and its telling provides vindication for Ditchburn's recognition as a boat-building genius.
The story actually begins in 1929, with the building of a 45-foot, ketch-rigged sailing yacht for senator William Alexander Fraser, a prominent resident of Trenton, and a tireless champion for business improvement in th Bay of Quinte area. A few years before the outbreak of the second World War, senator Fraser had been successful in securing the establishment of the trenton Air Force Base, which was to become a huge training complex in the commonwealth Air Training Plan.
At the start of the war, Canada became a much-needed production resource for every imaginable war material, and contracts were readily available. Small vessels of every type were suddenly in demand. One particular contract came to the senators attention, and he immediately thought of a solution. The British Air Ministry urgently required fast, sea worthy rescue boats for use in the English channel, and Senator Fraser realized he knew the man who could build them.
Chapter Ten: Reflections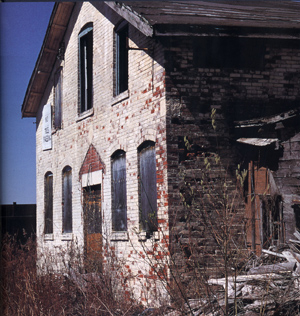 Ditchburn's products are still recognized as some of the best and most beautiful boats ever built in Canada. His important innovations in construction, mechanical systems, and design produced higher standards of customer satisfaction, safety, and utility. His vessels possessed a singular beauty-a sculptural quality that set them apart.